Solution Templates
Lean Portfolio Management
Manage portfolios more agilely and efficiently – via lean principles
Request demo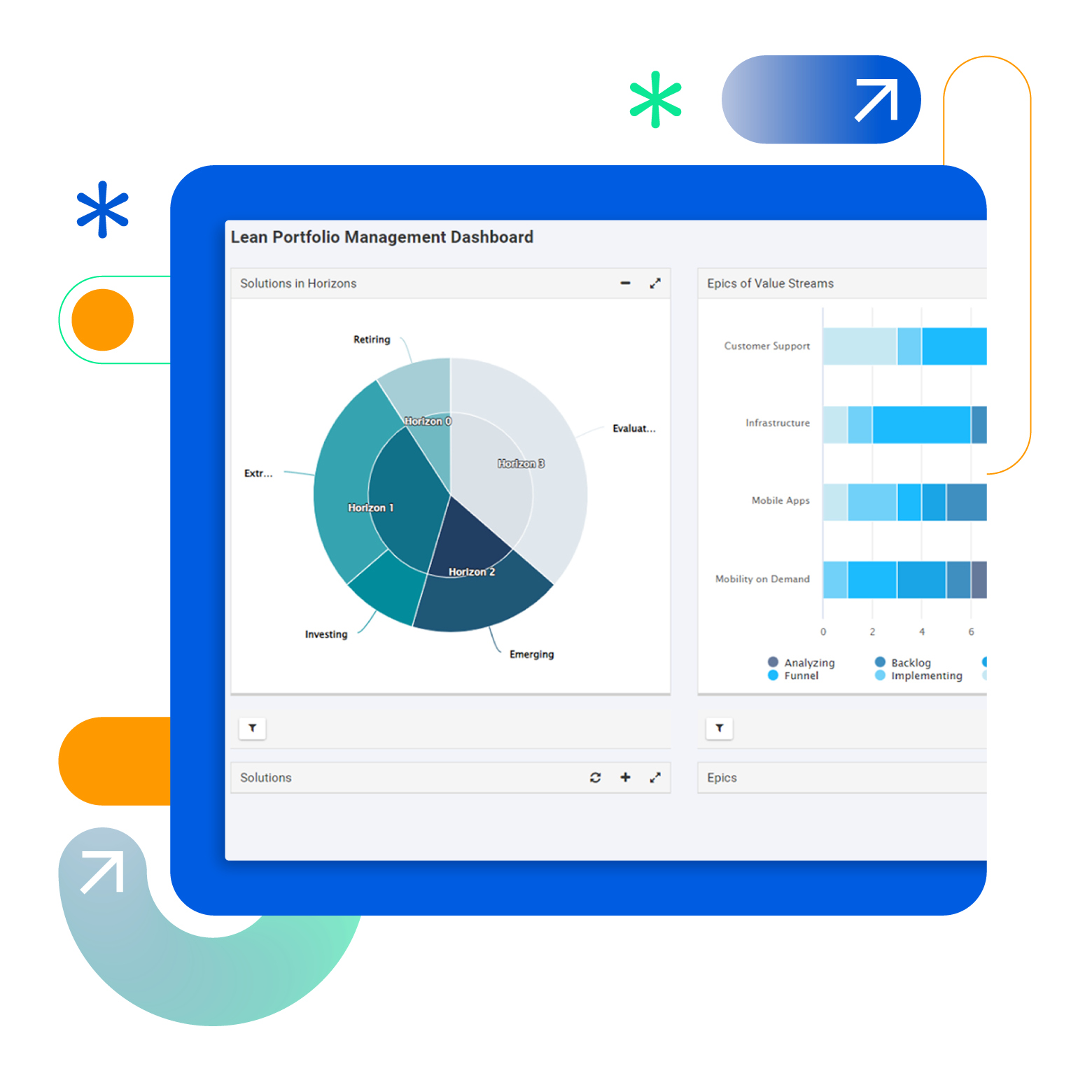 Link between corporate strategy and the management of product portfolios
Lean Portfolio Management is the link between corporate strategy and the management of product portfolios in an agile multi-project environment. Lean principles are used as part of the methodology to align an organization more efficiently and dynamically to common strategic goals.
The cplace solution template of the same name provides a central overview of the portfolio and supports those responsible in transferring strategic issues into epics. Expandable planning views enable precise and serious planning in terms of time, logic and strategy on a solid data basis.
Agile & digital transformation
The Solution Template Lean Portfolio Management supports a networked, fully coordinated enterprise on its way to a successful agile and digital transformation. It creates transparency about the portfolio and all the value streams it contains. 
Serious planning
The portfolio roadmap facilitates external communication. Portfolio managers can plan seriously by making decisions based on a solid database. 
Protection from unrealistic planning
The Solution Template is process-open yet provides a high level of security for users. Workflows guide you through customizable processes and protect you from unrealistic planning.
Product Highlights
Roadmap View
Central visualization of epics on a timeline, grouped by value streams.
Portfolio Kanban
Control and visualize of portfolio epics in the Kanban board.
Lean Budgets
Portfolio Epics
Overview, prioritization and status of epics in the portfolio.
Benefits
Portfolio Kanban
Visualize and control portfolio epics from brainstorming to completion with workflows
Portfolio Roadmap 
Centralized visualization of strategic projects, their dependencies and conflicts on a single timeline
 Lean Budgets
Agile, lean budgeting including earned value analysis
Facts
Type: Solution Template

 

Category: Agile Development, Scaled Agile Framework, Portfolio Management

 

Languages: GER, EN

 

Licence: Professional, Enterprise Board, Visual Roadmap

 

Developer: collaboration Factory AG

 

Compatibility: cplace 22.3+
 What's inside?
Premium Applications: Enterprise Board, Visual Roadmap

 

Standard Applications: Visual Domain Model, Landing Page

 

Platform Capabilities: Low-Code Automation, Visualizations, Workflow Manager, Roles & Permissions, Personal Dashboard

Demo Use Case: available