cplace platform overview
A Unique Platform for Project and Portfolio Management
Enterprises using the cplace platform can digitalize their entire project management and their process environment with unparalleled speed. cplace adjusts to the processes of the enterprise, rather than the enterprise having to adjust.
Work as quickly and flexibly as in Excel – with the power of an enterprise solution
The cplace platform forms a solid basis for all solutions of the cplace solution toolkit and even includes a set of tools for customizing these solutions.
The platform enables teams:
to collaborate efficiently, overcome information barriers,
share data and insights across team boundaries in real time,
use adaptable workflows and automation to optimize processes and
customize their solutions in real time with ease, similar to Excel.
All Teams, Solutions and Data on a Single Platform
A powerful data model
Equipped with this highly flexible data basis, enterprises can merge and interlink their data to create a single source of truth. They can build their own solutions on top of a robust data model that scales flexibly as the organization changes.
A home base for all teams and workspaces
The platform lets key users create optimum workspaces for their projects or teams and populate them with made-to-order content.
Insights at a glance
With cplace, users can visualize data in real time and generate reports at the click of a button – directly in cplace or in an Office document. Dashboards can be assembled simply with a few mouse clicks.
State-of-the-art workflows and automation
cplace solution components can be interlinked using smart logic. This enables users to custom-tailor processes, adjust them flexibly, and automate them with ease.
Administration and security
Universal platform-based features drive all cplace solutions like a main engine, ensuring comprehensive security, including a granular access rights system, a global search feature and other functionality.
The toolset for all key users
The platform grants selected key users access to a versatile set of tools enabling them to customize, develop or extend solutions, in many cases without requiring any manual coding.
A modular solution toolkit
Key users can build solutions from a versatile toolkit of reusable core components to address a wide spectrum of business needs. That saves time while leveraging synergies.
Integration with other systems
cplace can seamlessly and securely exchange data with many existing business applications. It makes it easy for enterprises to automate the flow of information across software boundaries.
Easy, safe deployment
The infrastructure layer is the basis of all cplace solutions used throughout the enterprise, providing flexible deployment options, whether from a public, private or hybrid cloud.
Power Your Projects with the cplace Platform!
Your Single Source of Truth
The cplace platform provides a reliable common data basis that is constantly updated in real time and accessed by all cplace solutions and data visualizations across the enterprise. Its data can be used from anywhere within the enterprise, and interlinked as required. This means that you no longer have to worry about inconsistent data sets or multiple copies of the same data being used and modified by different parties within your company.
Mix and match ready-to-use solution components
The cplace solution toolkit lets organizations select and match solutions as needed and interlink them on the platform to benefit from integrated best practices. This enables them to create custom solution environments for any business scenario, not just for the greatest common denominator.
Customize solutions live at any time
Companies change from day to day, and their business software ought to keep pace. The cplace development environment lets them develop and customize their software solutions themselves at any time when changing processes require it, without depending on external providers.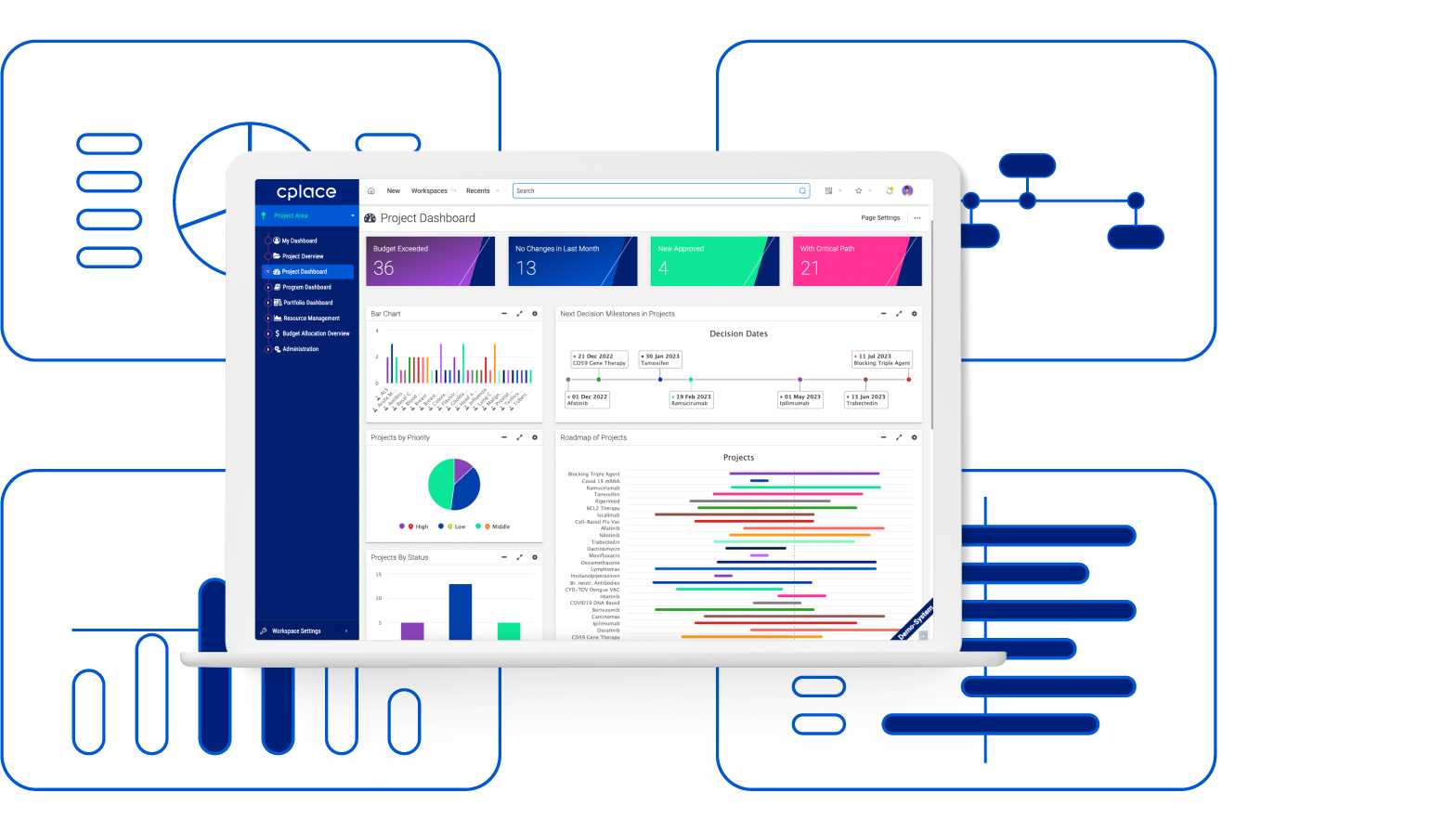 The right user interface for any user group
The platform can be used to provide the right user interface for any user type. Managers can work with dashboards designed to deliver the information they need; method-based specialists can have their custom-tailored expert solutions, and occasional users can be given a clear, easy-to-understand list of tasks, with everyone working on the same system.
The Magic of the cplace Platform: The Hybrid Data Model
Digitalize your real-life project world
The unique cplace data model makes information usable across projects. It enables organizations to:
visualize data for each user group exactly as needed,
provide updates to all stakeholders in real time and
interlink teams across software boundaries.
Interlink all relevant data
cplace merges all related information, whether it is unstructured (wiki entries, documents, images) or structured (tabulated information, data, numbers). This enables all stakeholders across the enterprise to:
make the right decisions based on complete, up-to-date information,
drill down into any project item and
work consistently in a single software environment without wasting time switching between disparate applications.
A Solid Foundation for Secure, Efficient Collaboration
Maximum protection for sensitive information
A comprehensive, detailed roles and access rights management system is included that can be linked to the corporate identity management infrastructure if desired.
Data visualization by mouse click
Create and populate user interfaces using ready-made layout components without manual coding
Quickly find the information you need
Use the powerful, fast, full-text search feature to invoke the pages you need without wasting time.
A user experience everybody loves
Customize your user interfaces with your company or project branding to ensure instant recognition and a pleasant user experience
The cplace Platform: Frequently Asked Questions
Our company already has too many individual software solutions. Why should I implement yet another platform?
Replacing many individual applications with cplace simplifies the system environment. cplace can help help you replace legacy Excel files and scattered specialized tools, merging all related activities into one scalable, collaborative solution with a single, common data model and stringent administration.
What all can I do with the platform?
The cplace platform can be used to digitalize any process and any project across the enterprise. It lets you develop custom cplace solutions or modify and extend existing cplace solutions, and interlink all of your cplace applications. Use cplace to digitalize you workflows and automations. Connect data from your existing software applications to cplace with minimum effort. The cplace platform also enables user group-specific visualizations of the same data by custom-tailoring user interfaces as needed.
Can the platform be used without any additional apps?
Yes, the cplace platform is fully usable without purchasing any Premium Apps. The optional apps add specific expertise and expand the functional capabilities of any cplace installation when needed. For example, you may choose ready-to-use solutions for project scheduling using Gantt diagrams, for agile task management or many other purposes. Learn more in our Licensing section.