Why cplace?
With cplace, Leading Enterprises Turn Their Projects into Success Stories
Your organization knows more about its projects than you think. The cplace platform finally gives you a solution that unifies all this project data into one place.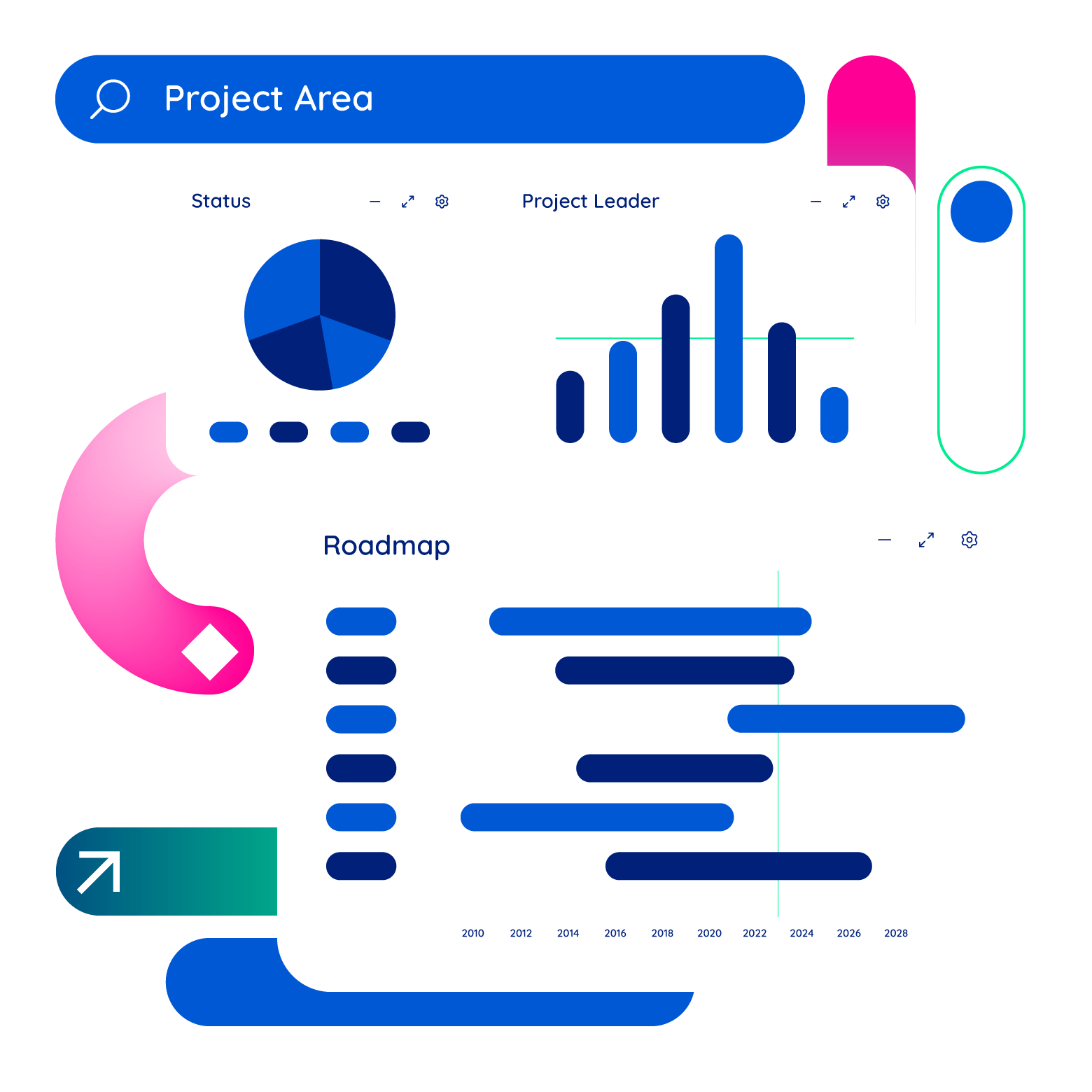 In a Typical Enterprise, Project Information Is Scattered across Thousands of Excel Documents and Isolated, Special-Purpose Tools.
This is inefficient and non-transparent.
Team members can never rely on their data.
This endangers project success.
Every year, employees spend weeks pulling bits of information from individual Excel spreadsheets for further processing. No company can afford that anymore.
cplace is different
Market Leaders Use cplace – for Very Good Reasons
cplace Lets Your Projects Succeed – Today and in the Future.
One single platform for everything
With cplace, all users across the enterprise work in a common system with a common data basis.
A modular solution toolkit
Whether you use pre-built elements or create solutions in-house – with cplace you build a work environment custom-tailored to your needs.
Live customization
Respond to change directly and customize cplace in-house at any time – in real time.
Leave shadow IT behind. Embrace a collaborative PPM platform
Major enterprises use cplace to transfer their project and portfolio management from an inconsistent Excel-based, shadow IT scenario to a centralized platform. This means they:
minimize resource utilization and implement projects efficiently,
optimize product development and accelerate time-to-market
while saving money throughout the enterprise.
Solution components based on proven standards – instantly ready to use
With cplace as their common platform, enterprises can use the cplace solution toolkit to create custom solutions in record time, mixing and matching components. Any time a new software need emerges, they can easily adjust and expand their solution environment.
cplace solution components are ready-to-run. They combine proven standards and best practices from project and portfolio management with innovative specialized and technical enhancements, enabling enterprises to create their own, custom-built business software solutions within minimum time.
Overview of cplace building blocks
Turn your individual processes into a competitive advantage
cplace provides enterprises with vast opportunities for building their own custom software environment. cplace can be used to precisely map unique processes to the supporting software.
It lets departments and teams work exactly the way they prefer while using the same, common platform and the same data basis – a single source of truth.
This ensures:
use of the same common, interlinked data across the enterprise
easy reporting and
low susceptibility to errors.
Learn more about the cplace platform
Respond to change rapidly
Every day, the need for new software can arise in a company. With cplace, this need can be met quickly and precisely as needed, often by the business users themselves.
Using cplace as a development platform empowers citizen developers to create new solutions quickly or customize existing solutions on the fly.
This helps enterprises overcome the IT bottleneck.
cplace delivers quick answers when change knocks at the door, letting enterprises get ready for future challenges instantly without investing excessive amounts of money, time and effort.
Learn more about cplace as a development platform
Designed for big enterprises
cplace meets the most stringent requirements in terms of security, scalability, data safety and compliance. Our long-standing client relationships with global market leaders prove it.
Thanks to its native integration capabilities and comprehensive options for exchanging data with common business applications, cplace provides vigorous support for enterprise-wide process automation, enabling enterprises to minimize costs, complexity and risks.
Learn more about cplace enterprise governance
Software the Users Love
cplace provides users with an attractive work environment that supports their daily project activities and makes their lives easier. The best part: cplace doesn't just provide one common work environment for everyone but a multitude of custom environments perfectly tailored to the individual needs of every user group – yet on a common platform. This makes cplace an indispensable tool in day-to-day project activities, delivering highly current, reliable data to every user.