Solution Templates
Large Solution SAFe
Scaling agile methods for large solutions and enterprises
Request demo
Organizations often face the challenge of managing complex, enterprise-wide tasks that require the application of Agile principles to large solutions. Their development is typically beyond the scope of a single Agile Release Train (ART). Building these solutions requires additional roles, artifacts, events, and increased coordination efforts. 
The cplace Solution Template Large Solution SAFe enables the agile implementation and management of large products according to the methods of the Scaled Agile Framework (SAFe). It enables companies to develop high quality solutions in parallel on a large scale and to deliver them on demand. The agile values of alignment and transparency are optimally promoted through efficient coordination of all tasks and shortest company-wide communication channels. This prevents the formation of silos, contributes to fast time-to-market, and creates competitive advantages over the competition. 
Progress
Real-time information on the current development progress of all planned capabilities during a planning interval
General overview
View and track the dependencies of individual capabilities and their underlying features and users
Dashboards
Manage milestones and events with intuitive, organized dashboards that enable efficient Project Management
Product Highlights
General overview
The home page provides at-a-glance information on solution progress and key KPIs
PI-Board
The current PI board provides an overview of the progress of the current PI, its capabilities, and the dependencies between capabilities and ARTs
Capability Dashboard
The Capability Dashboard allows you to break down portfolio level epics into capabilities
Timeline
The Timeline dashboard provides an overview of PIs, SAFe Events and SAFe Milestones and allows you to schedule these events
Solution Kanban
The Solution Kanban provides an overview of capabilities across different backlog states while ensuring that WIP limits are not violated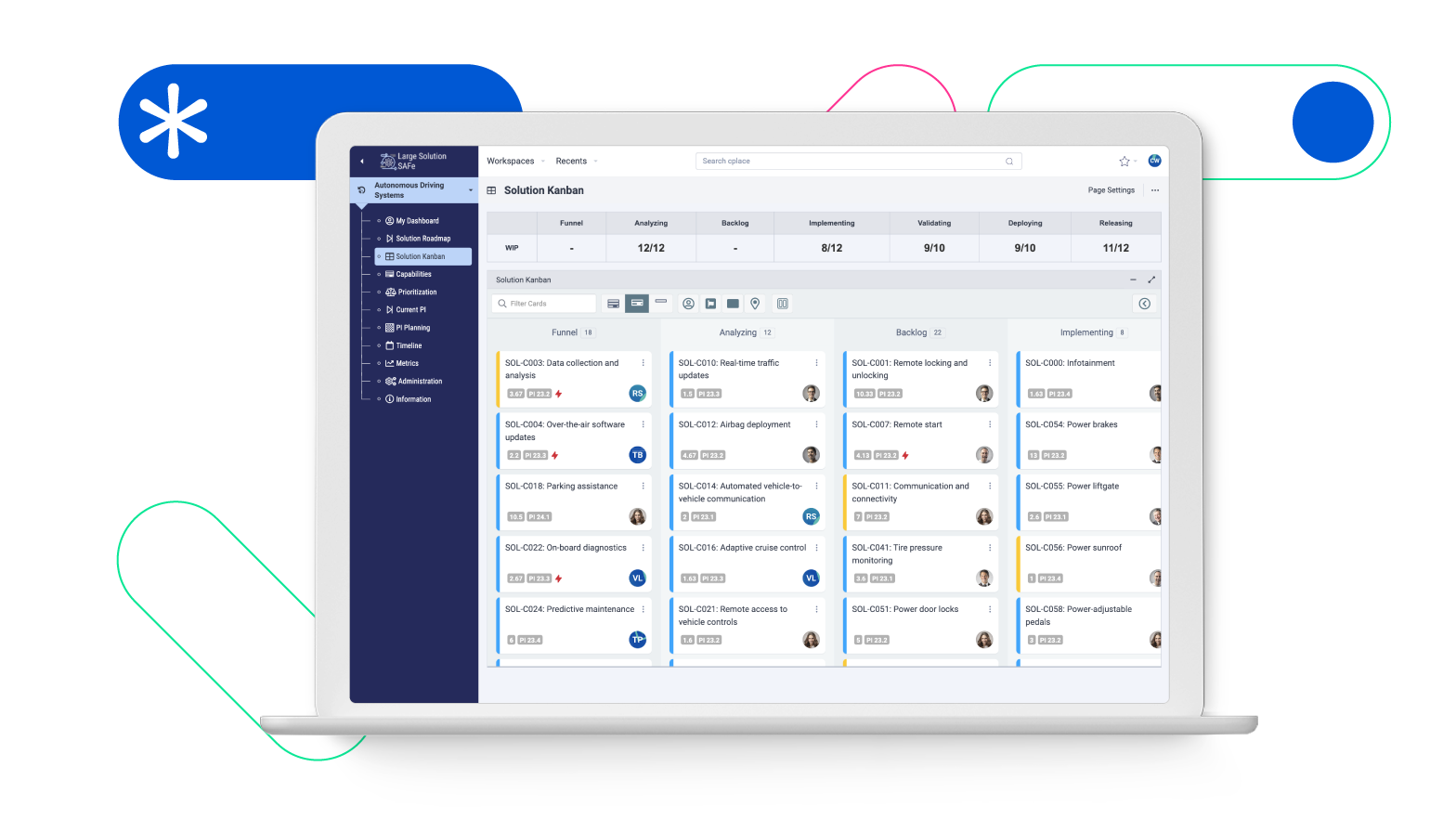 Benefits
WSJF certification
Prioritization based on the Weighted Shortest Job First (WSJF) method. It ranks tasks in agile projects according to their strategic value, dependencies, time criticality, and risks
Detailed information
Several dashboards provide detailed information about the current Planning Interval (PI), making it easier to plan the next PI: Lead times, number of capabilities per PI, planned/actual business value comparison, and more
Basic event management
Provides the Solution Train Engineer with basic event management: customization of PI start and end dates, key milestones and events, solution demos, and PI planning and solution synchronization events
Dependency management
Efficient and intuitive dependency management across all SAFe levels and all relevant artifacts
Measure & Grow
Agile assessments through Agile reporting dashboards, such as flow time, flow velocity, flow predictability, and load vs. capacity 
Coordinate and collaborate
The agile values of alignment and transparency are fostered through efficient coordination of all tasks and short, company-wide communication channels
Facts
Type: Solution Template

 

Category: Project Planning, Project Management, Hybrid, Agile Development, SAFe

 

Languages: DE, EN

 

License: Professional

 

Developer: collaboration Factory

 

Compatibility: cplace 23.3+
What's inside?
Premium Applications: Enterprise Board, Visual Roadmap

 

Standard Applications: Enterprise Board, Landing Page, Visual Roadmap by GT

 

Demo Use Case: available